New customers
Create an account to save your info for future purchases
Create an account
Registered customers
Log in if you have an account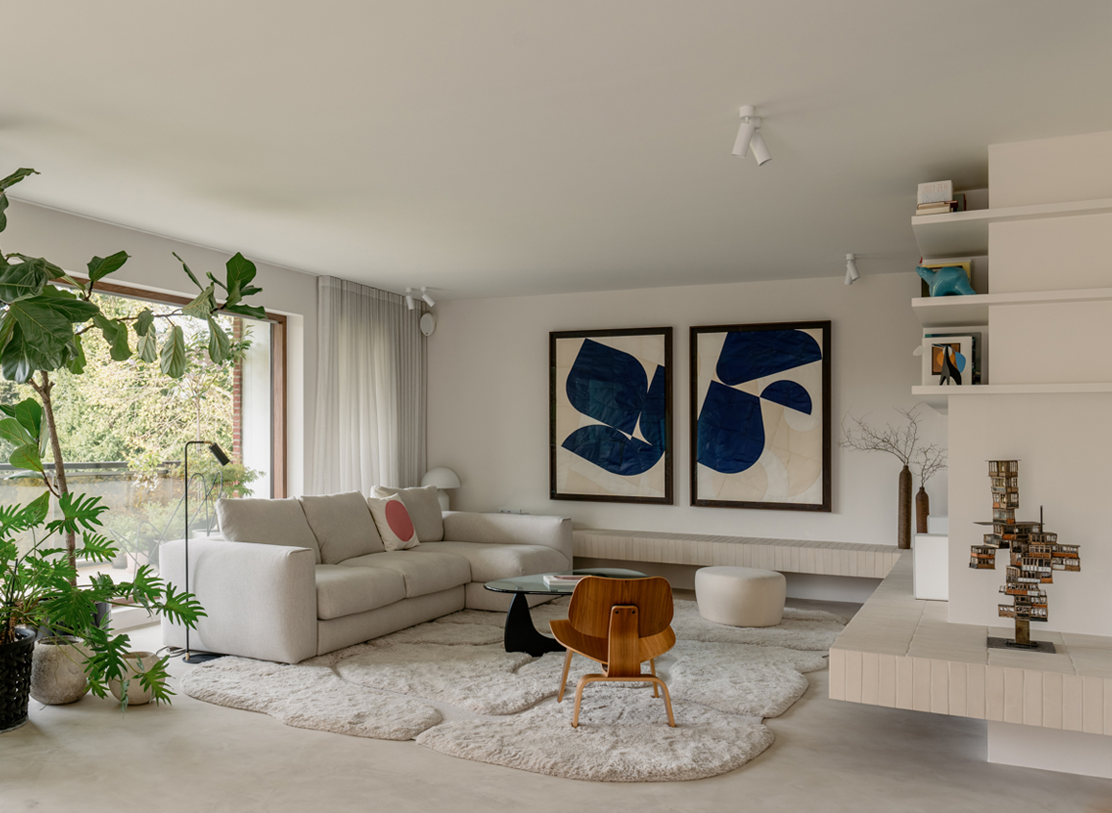 This total renovation of a Brussels Flat is a leap outside our comfort zone, where we embraced a neutral colour palette and found the perfect balance between shades, materials and textures.
Our clients envisioned a renovation that encompassed a harmonious blend of light, nature, luxury, and contemporary design. The result is a space that reflects their personal style while embracing minimalist elegance, with carefully chosen materials, meticulous attention to detail, and artistic touches that leave a lasting impression.
Smart interventions have redefined the spaces...

The kitchen has been transformed into a practical and dynamic place with plenty of storage space. The layout has been completely redesigned, transforming the heart of the house. The design harmoniously combines rich walnut wood with sand-coloured lacquered wall cabinets, creating a warm and inviting ambiance. The natural stone countertop and backsplash add a touch of timeless elegance, elevating the overall aesthetic.
To enhance the sense of flow and separation...

a light-toned wooden claustra delicately delineates the kitchen area from the adjoining living room. This thoughtful touch brings a subtle division while maintaining an open and airy feel, allowing for seamless interaction between the two spaces.
The living room...

is an open space with a large window that shows a beautiful view of the garden.  In the sitting area, we designed a floating tablet covered with unique tiles that serves as a TV cabinet and bench.  Above, there are shelves that are not only functional but also provide visual balance. 
Above the dining table...

we chose Muller Van Serveren's hanging lamps that come in a brass finish.  The airy design contrasts nicely with the travertine table and creates a subtle graphic element in the space.
The warm materials extend to the bathroom...

where the combination of walnut wood and light-coloured natural stone creates a serene oasis. The use of these elements infuses the space with a sense of tranquillity and natural beauty. A large mirror adorns the bathroom, enhancing the overall design and creating an expansive effect. This clever addition adds depth and dimension to the room, amplifying the feeling of spaciousness. With its carefully curated materials and thoughtful design choices, the bathroom exudes a hotel-like ambiance. It invites a sense of luxury and relaxation, creating a retreat-like atmosphere within the comfort of one's own home.
In the daughter's bathroom...

we added a fresh, vibrant twist with playful light green tiles, bringing a touch of youthful energy and cheerfulness..
A custom-made steel door...

with reeded glass stands as a striking feature between the master bedroom and the office space. This artful door serves as a subtle separation, maintaining a sense of openness while allowing ample natural light to permeate both areas.

Continuing the theme of elegance and harmony...

the same linen voiles are used throughout the whole flat, creating a cohesive and visually pleasing flow. These delicate window treatments softly filter the incoming light, adding a touch of sophistication and privacy while maintaining a sense of airy spaciousness.
A hand-applied, artisanal floor...

flows seamlessly throughout the entire home, fostering a sense of unity and connection between spaces. This meticulously crafted flooring not only ensures a uniform look but also adds a touch of warmth and natural beauty. The delicate, subtle brush strokes create a gentle pattern, enhancing the overall aesthetic with a touch of organic charm

This ensemble serves...

as the ideal backdrop for showcasing the stunning artwork and furniture. Every corner of their home tells a story, with carefully selected art pieces and thoughtfully curated furniture that embody their taste and style. The harmonious blend of design elements and personal touches creates an atmosphere that is not only visually captivating but also deeply resonates with the essence of their family.


Pictures by Hannelore Veelaert