New customers
Create an account to save your info for future purchases
Create an account
Registered customers
Log in if you have an account
Ann-Sophie & Maxim / Blind Gekocht
29 Apr 2021
Ann-Sophie and Maxim were living in a tiny studio that was getting way too small for both of them. After stumbling on a few issues while looking for a home, they called on the Blind Gekocht team for help. After an intense house-hunting spree, Béa and I found a very nice house with a lot of potential, and a lay-out they could work with. Still, we needed some creativity to make the house work for their soon-to-be owners. 
The kitchen became the heart of the home

The original kitchen did not offer a lot of possibilities, so I decided to switch things up! The cooking area was moved to the middle part of the ground floor, creating space for Ann-Sophie's much-wanted kitchen island. She also dreamt of a matt black kitchen, and I happily made that dream come true. To create some balance and warmth, I worked with wood and colourful ceramic tiles. By moving the kitchen, the back of the house became a spacious, light dining area. The newly-added window offers plenty of daylight, sunshine and a direct connection to the garden.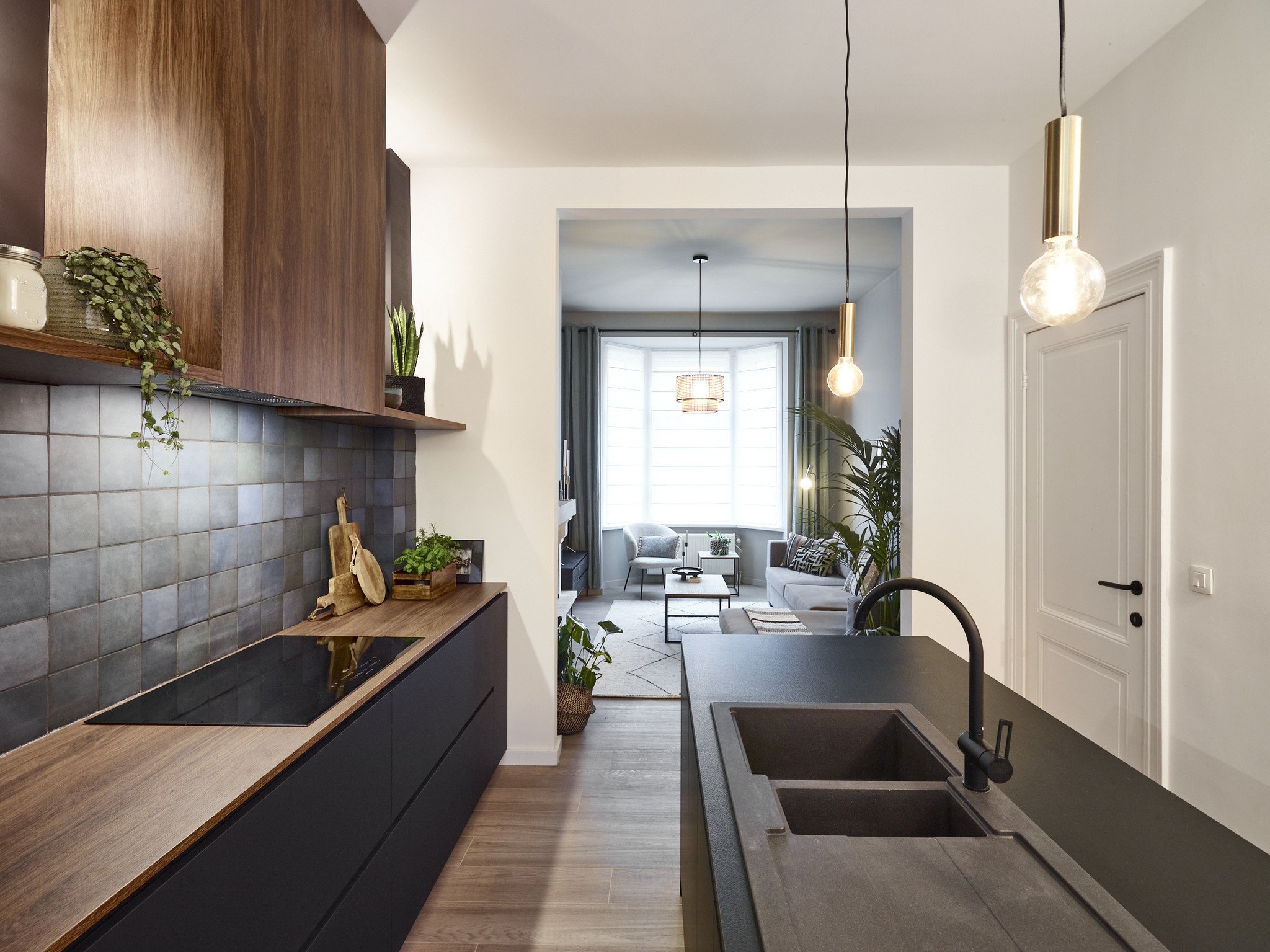 Even though the owners were hesitant about colour...

I managed to add our signature La Fabrika style without losing sight of their personal style. I opted for softer, muted tones that aren't too overwhelming. Even though we painted the living room was painted in green from floor to ceiling, the space remains a calm, welcoming haven. The stairway was painted in a matching shade, adding a bold touch to the interior. The flooring is the same elegant oak parquet-tile, creating a spacious, coherent feel. 
The original bathroom was quite spacious, but the lay-out was a bit off.


I largely kept the original placing, but still we managed to create an entirely different feel without drastic changes. A big walk-in shower was installed which created a calm atmosphere by combining different materials. The XL wall and floor tiles in light grey set a serene tone, while the dark wooden cabinets add a warm dynamism. The space now oozes rest and relaxation. 
Coming from a 42 m2
studio, having a separate bedroom was a big upgrade

I wanted to emphasize this by turning the bedroom into a cosy cocooning spot. With limited resources, I added some personality to the space using a striking wallpaper, elegant curtains, plants, mood lighting, ... As for the whole house, the bedroom now really is a place when they come home, wind down and have room for each other and themselves!