New customers
Create an account to save your info for future purchases
Create an account
Registered customers
Log in if you have an account
Esli & Silke / Blind Gekocht
27 May 2021
Esli and Silke's issue? Making a decision! They were looking for a house for 3 years already, and just couldn't find something that worked. The good thing is, that this meant that they had saved up a nice sum of money for Béa and I to work with. Ever so frugal, we had €400.000 to spend on the project. Still, the search for a suitable home was not really a piece of cake. Looking for peace and quiet proved to be harder than you'd think in an area that has a lot of industry and motorways. 
Eventually, we found a new home for the young couple in Zwevegem

You could call it somewhat of a 'project': the place needed a big re-do to make it suited as a family home. This meant that we could really cater it to Esli and Silke's needs. Even floor heating and solar panels were installed, keeping environmental ànd frugal issues into account. 
Next challenge: the interior

The moodboard Esli and Silke made did not really have a clear line in it, making it harder for me to know what exactly they wanted. Luckily, I managed to pull it all together in my signature La Fabrika style. 
   

The wall between the kitchen and sitting room was torn down to create one large living area

I updated the existing fireplace, giving it a more modern look. The white ceramic tiles offer a nice contrast, making it into the eye catcher of the room. The dark flooring is balanced out by the light oak furniture. In the kitchen, I infused the stark, sleek white with a touch of La Fabrika. By adding darker wood and a countertop in natural stone, we added a dose of warmth to the space.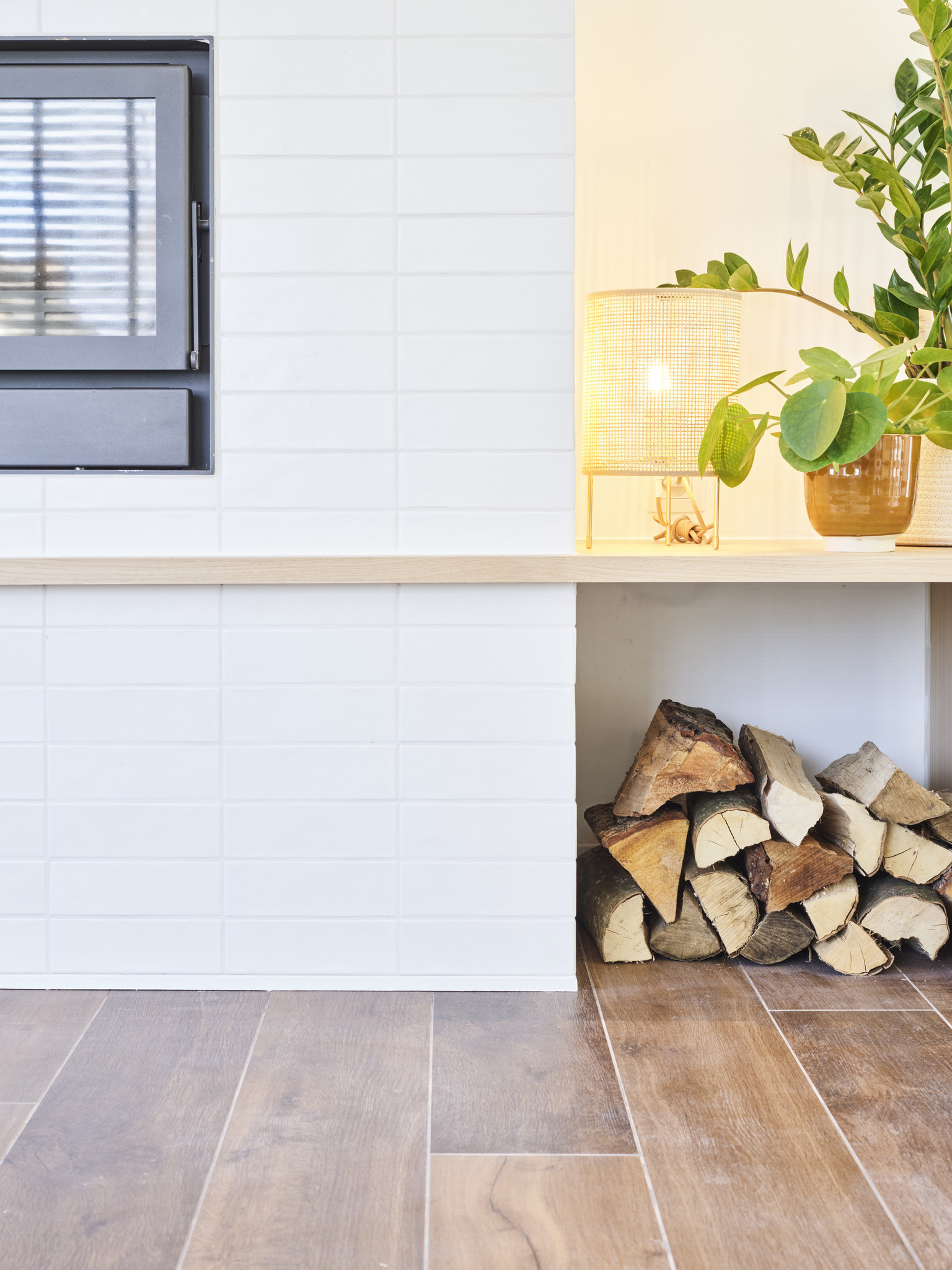 I gave the bathroom a big update

I created a double shower by removing a wall. On the floor, I used colourful tiles to match Silke's wish for Portuguese inspired ceramic tiles. The deep green tiles in the shower add more depth to the space, evoking a cosy yet modern feel.
Check out the before & after of the project!