New customers
Create an account to save your info for future purchases
Create an account
Registered customers
Log in if you have an account
Meet the team / Hanne
19 Jul 2023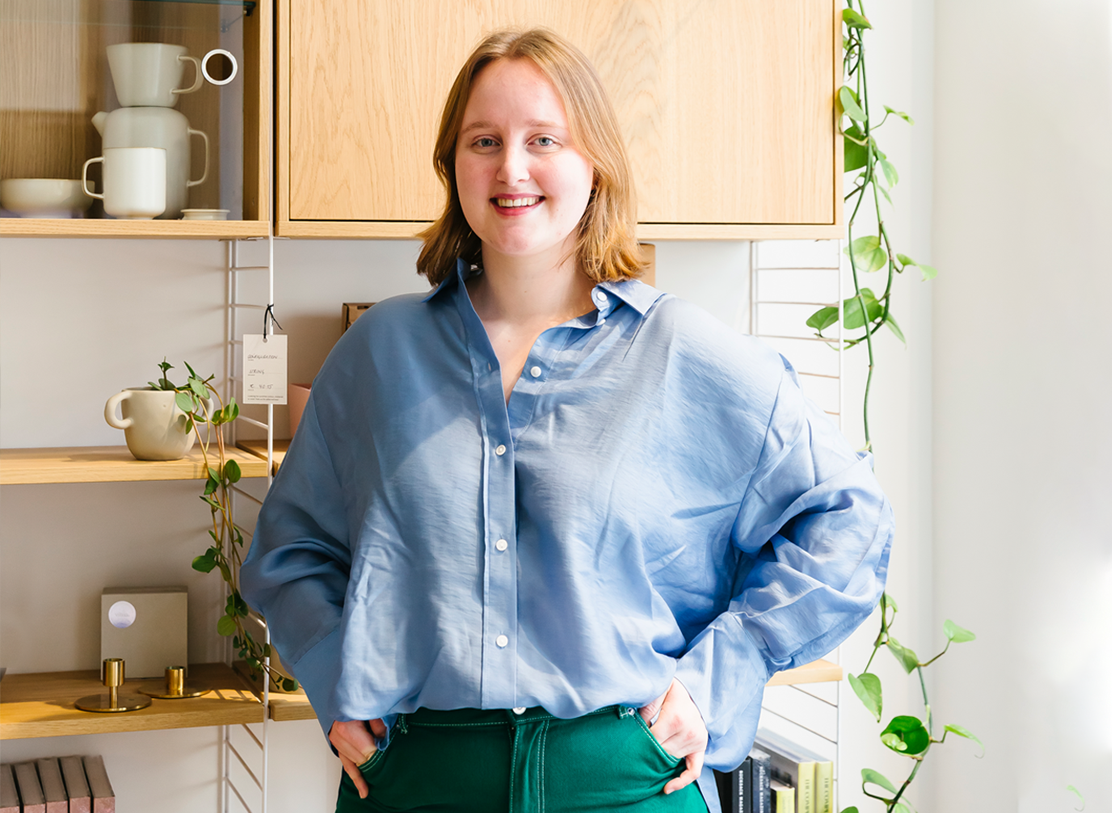 Meet Hanne...

Our dedicated and vibrant shop assistant at La Fabrika, where she takes pride in delivering exceptional customer care. With a passion for design and interior design, Hanne's journey at La Fabrika began years ago, as a student, and has evolved into a permanent role within the team!


1    What is your role at La Fabrika?

As a shop assistant at La Fabrika, my focus is to ensure that each customer receives the utmost attention, support, and assistance during their shopping experience.

2    What do you like most about your job?

The interesting and cultural environment is one of the nicest things about the job. Here I have the chance to meet so many fascinating and inspiring people, both professionals in the field of design and interior architecture and fine customers who consider La Fabrika a permanent fixture. Moreover, I constantly stay up to date with the latest design trends as 'my second home' is regularly updated with the latest design objects.

3    How/where do you live?

I live in an open loft, located under the roof of an old hay barn. I immediately fell in love with the beautiful old wooden beams and the abundance of natural light coming in. The basis of my interior design is clean and minimalist. To give the space more personality, I play with colour and material accents and add vintage finds. That way, I try to create a unique and personal atmosphere.

4    What is your favourite spot in the house?

In summer, I most enjoy my time on the terrace, where I relax with a book and a refreshing iced coffee or great company and an extensive tapas board. Although the terrace is simply furnished, the natural surroundings create just the right atmosphere! In winter, I love making it cosy in the living room. Especially during the Christmas period, the Christmas tree brings the cosy atmosphere I love so much.

5    Which colour always puts you in a good mood?

Ultramarine blue is definitely my inspiration and it stimulates my creativity. It even played a central role in my final paper! The fact that it is currently a trending colour and popping up everywhere makes me even more excited and happy!

6    What tip would you give to people who want to revamp their interior but don't know where to start?

Choose a stable base by creating a moodboard of materials and colours. This will help you establish later choices in terms of furniture and accessories. Also note the unique elements of the space, such as authentic details or a beautiful (city, nature) view. By observing the space, you can make interesting interior design choices. Also, don't forget to add your own personality. You do this with furniture with a personal story, books, plants, memories, art ....

7   What is the most valuable piece of interior design advice you have ever received and how has it influenced you?

The interior can be considered in a broader way than just the physical inside of a house or building. It offers the possibility to explore, for example, the interior of a dream, a work of art, a temporary installation, a city or a landscape. This experience has significantly broadened my perspective on the field.
8   Which trends in the interior design world currently appeal most to you?

I absolutely love the trend with polished aluminium or stainless steel. It is a trend that is appearing more and more often in furniture, accessories and kitchens. Especially when combined with brutalist and minimalist accents, this trend really comes into its own. The sleek and shiny appearance of polished aluminium or stainless steel adds a modern and sophisticated look to any room.
9   Which design item is currently your favourite?

Vitra's colourful high trays are great! I love multifunctional design that can be used in different places in the house and at different times. These trays are really versatile and can be used anywhere in the house. Whether for storing jewellery, serving snacks during an aperitif or just as a fun eye-catcher, they definitely add a special touch to any room!
10   What are some of your favourite interior design and lifestyle blogs, influencers or sources for inspiration?

On Instagram and TikTok, I follow the likes of Pieter Peulen, Eléonore Vanbavel and Matilda Bea. They offer interior and lifestyle inspiration. I also look up to designers like Studio Ossidana and Muller Van Serveren. How they think, design and curate as designers, but also how they deal with temporary interior architecture. As a 'newly graduated' interior designer, I also draw a lot of inspiration from projects by former fellow students.

FAVOURITE ITEM: High Tray
11   What is your favourite way to relax after a busy day at work?


After work, I enjoy taking a long walk in nature at home. It's the perfect way to clear my head. What I also love is when a weekday evening takes a different turn. Meeting friends unexpectedly in town and going out for a spontaneous dinner - these are moments I can really enjoy!

12   What is your favourite travel destination?

Barcelona is my favourite destination for short breaks. It is a city full of diversity and richness, with so many different aspects to enjoy. I enjoy leisurely walks past cosy shops, relaxing on the beach and experiencing breathtaking sunsets from the city's highest points. Barcelona offers something for everyone! I also cherish the dream of one day taking a long road trip across America. The intriguing "American way of life" really appeals to me, and I would love to discover parts of the country on such an adventurous trip!
13   How would you describe your colleagues in 1 word?

Colourful!
14   Can you tell us an interesting fact about yourself that most people don't know?
An interesting fact about myself is that I have been working for La Fabrika for quite a long time. I started there in 2020 as a student updating the webshop. After moving to the new shop, I worked as a student during holidays and weekends. During my masters in Interior Architecture, I did an internship at Studio La Fabrika and now I have been working as a permanent employee in the shop for six months. It is an inspiring environment where I am constantly learning new things and can combine my passion for interior architecture and design.
15   What is your favourite song at the moment?

I never have one favourite song. Currently, I like to listen to indie rock and pop, but I can also go wild to 80s music!